VIDEO PRODUCTION
SERVICES
While many commercials just make viewers click 'skip', great commercials incite emotion and become part of our culture. We all remember the series of anti-drink driving ads, "If you drink, then drive, you're a bloody idiot", which is a phrase we still say to this day.

And that's why we love making commercials. It's where we really get a chance to flex our creative muscle. Whether it's an emotive PSA, light-hearted comedy, or aspirational tourism campaign, we are passionate about coming up with creative concepts that bring your message to life.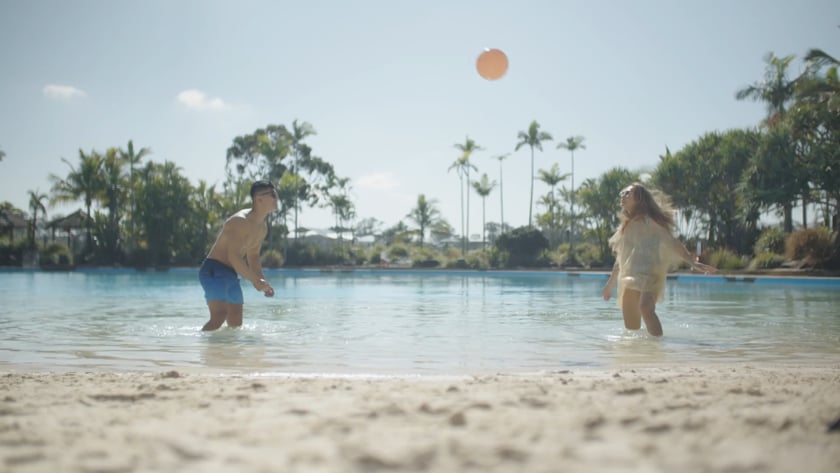 While many commercials just make viewers click 'skip', great commercials incite emotion and become part of our culture. We all remember the series of anti-drink driving ads, "If you drink, then drive, you're a bloody idiot", which is a phrase we still say to this day.

And that's why we love making commercials. It's where we really get a chance to flex our creative muscle. Whether it's an emotive PSA, light-hearted comedy, or aspirational tourism campaign, we are passionate about coming up with creative concepts that bring your message to life.
CORPORATE, BUSINESS & EVENT VIDEOS
Event videos are great content marketing pieces. Whether it's a 3-day conference or a fast paced sporting event, these videos capture your business in action. Viewers see you in your element, so it's crucial to present you at your best. This is when a well-executed event video can truly elevate your brand.
Having done all kinds of event videos from product launches to sporting competitions, we are confident in creating videos that will help you strengthen your customer base and reach new potential ones.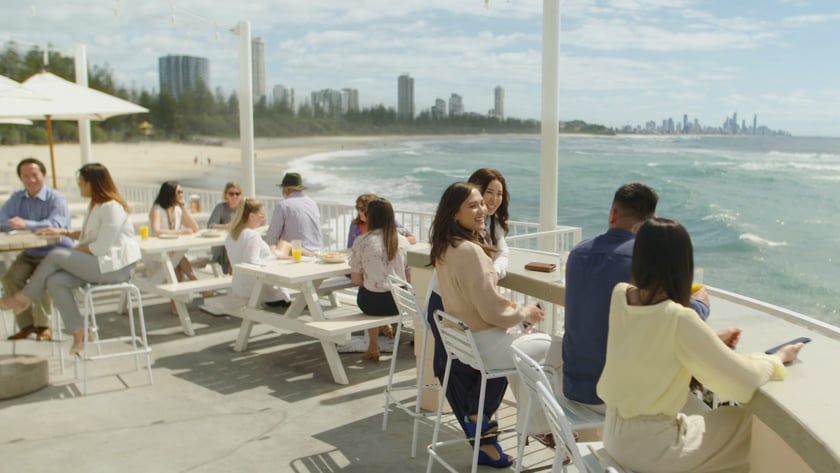 Our approach to event videos is not simply to capture event footage. Because we shoot and edit in house, we are experienced in knowing how best to craft a video that will keep viewers watching. This informs the way we shoot and what moments we look out for. We pride ourselves on always finding the best angles to shoot any location.

What you'll get is a well-told story that shows off the event's atmosphere at its best, highlights core company messaging and importantly, engages your viewers.
WHAT
OUR CLIENTS

HAVE TO SAY
"Such an amazing team - Jacqueline & Dan were true professionals and took our production to the next level. The attention to detail and creativity is just what we needed. Easy to work with, flexible and fun! We're so happy!"
"Creative, prompt and professional. Dan, Jacqui and the team did a fabulous video for us within a short timeframe. I would definitely recommend them."
"I have recently worked with Dan and Jacqui on a TVC and they were amazing! Professional, creative, friendly and reliable. They made everyone feel so comfortable on the shoot and made sure we captured the perfect shots within the scheduled timeframe. We got exactly what we wanted from creation to the finished product. I would highly recommend using Bordertown Films!"
"These guys are excellent, professional and very creative, Bordertown Films produced a small video for my website, they did an awesome job with what I gave them to work with."
"I couldn't recommend Bordertown Films highly enough. They took away all of the stress and uncertainty I've felt working with film crews before and both Dan and Jacqui are genuinely lovely people. I can't wait to work with them again! Thanks to you both!"
"Positive: Professionalism, Quality, Responsiveness, Value We utilised Bordertown Films for cycling promotional and educational videos for a SEQ Local Gov. The videos were fantastic, and Bordertown Films were a pleasure to deal with."
"Dan, Jacquie and the rest of the team at Bordertown Films are consummate professionals. As a marketing manager at a major sports training facility, I had the pleasure of working with them on a number of occasions to create video content for our website, social media and cinema advertising. Every single time they understood what we wanted, nailed the brief, and the finished product was of the highest production value. And they're great people to boot... Highly recommend!"
"Great to work with, Bordertown are both creative and professional. They created a brilliant piece of work for me and will be working with them again."
REAL ESTATE & PROPERTY VIDEOS
There are many ways to showcase a great property, from aspirational lifestyle videos to epic drone fly throughs and open house events.

We love incorporating stylish graphics into our property videos, we find it is a great way to present information and visually identify property boundaries and key features.
Thinking of shooting in Queensland and don't know where to start? That's where production support service comes in.
Production support is a whole suite of services provided by a local fixer or production company to support an international or interstate client's shoot.
Although most things can be planned remotely these days, having local knowledge and someone on the ground can be crucial to the success of a video project.
Our client, Sanctuary Cove, approached us to try and quash the perception "that the community was just a place for people looking to enjoy their retirement and a place to spend their golden years". When in fact, Sanctuary Cove is home to people from all walks of life, who love the boutique, vibrant, village lifestyle. We knew we were up to the challenge and we set out to effectively encapsulate that message in a video campaign. 
Our friends at digital agency Tailored Media and client Fisiocrem needed an effective video campaign that would target Aussie mums.

Research shows that when it comes to buying personal products such as sports rubs, mums are the ones who ultimately make the decision. Also Aussie mums are usually fit and active, so they themselves are also an end user and a key demographic.

We needed someone Aussies mums could relate to and connect with. Enter Fisiocrem brand ambassador, Olympic gold medallist and mother of 2, Libby Trickett. Libby was the perfect blend of being someone who is aspirational and a down to earth mum.
In 2016 I moved back to Australia after spending 10 years working in Singapore. After spending so long abroad I was undeniably home sick and keen to soak up everything I'd missed. So this is like my love letter to Australia and contains a lot of the things I love about it: mateship, mullets and beer!

This is a film about Baz, a quirky inventor who invents a beer that makes one smarter, better looking and gives you incredible hand eye coordination, finally!
Our client NCPG (National Council of Problem Gambling) approached us with their problem of connecting with a younger demographic. The soccer world cup was fast approaching and they wanted to get an awareness campaign out there to warn the public of the dangers of gambling.

They had done previous campaigns with a more serious tone, that was not received well by the public. So for this campaign they wanted to try something different, we suggested comedy.
To create a compelling video that captures the scope, scale, energy and drama of an international strongman competition in one day!

I'd never heard of static lifting before, when I first heard of it, I thought it would involve a bunch of geeks sitting around a TV trying to tune it. How wrong I was. Static lifting is similar to weight lifting at the Olympics but with a rustic barnyard twist, with events like the Log Lift and Axle Dead Lift.

Static Monsters is the biggest strongman competition of its kind with competitors from all over the world. The event was held at HOTA on the Gold Coast over one day.
FREQUENTLY ASKED
QUESTIONS
I'm not really sure what I need yet, can I call for a chat?
Of course! Sometimes it's good just to talk through some ideas. You might even find out you don't absolutely need a video at this point! Perhaps you're better off putting the money towards some SEO or Facebook ads for the moment. Don't worry, we know what it's like to be a small business, you need to make every dollar count, and we'll make sure you get the right advice that suits you.
How much does a video cost?
Videos come in all shapes and sizes and are costed accordingly. Some simple property videos can cost as little as $600, while high end TV commercials can cost tens of thousands. As a ballpark though, most mid-range videos cost between $5-10 thousand. However the thing to note is, we're always willing to work within your budget. We can help make suggestions ensuring you get the most bang for your buck. If you'd like a more in depth exploration on how much videos cost have a look our blogpost here.
How long does a video take to produce?
While we can produce videos in a few days if needed, usually allow for around 3-4 weeks from the first phone call to final video delivery. However depending on what type of video, the length of time may vary. Larger productions that involve scripts and talents typically take longer because we need to ensure our clients are 100% happy before we head into shoot.
How long does it take to shoot?
Going on shoot is where all the action happens, it's when we rock up to location with our cameras, lights and crew. While some videos can take days to shoot, typical shoots usually go for 1 day.
What is the process for making a video?
Any production, whether it is a corporate video, TV commercial, TV show or movie, can be broken down into 3 distinctive periods: Pre-Production, Production and Post-Production.
Pre-Production
The process before the shoot day is known as Pre-Production and is a crucial stage because it's where we help our clients craft their story and decide on the look and feel of the video. It's where we decide on the concept: what do we want to say? What's at the core of the story? It's where we decide what talents to use. Are they going to be internal staff or hired actors? What are they going to be wearing? What are they going to say? Where are we going to shoot? This is really important to lock down before the shoot day because that's where most of the budget is spent, on the equipment, cast and crew.
Production
You've decided on the style, locked down the script, chosen your talent, decided on the location and prayed for good weather, now the big day comes where you marshal the troops and head into shoot. Being on set really is a magical experience. There's a crackle in the atmosphere when the cameras roll, it's where all the effort in pre-production pays off and you see your ideas come to life.
Post-Production
This is where our editors sit down with the hours of raw footage, sift through the bloopers and craft the story. It's where we select the most beautiful shots, find the moments, the best soundbites and put it to music. We then come down to your office with some bags of popcorn, dim the lights and show you the masterpiece. Of course, it's not done yet. You may prefer a different music track or a different soundbite, we'll work with you until it's something you absolutely love.